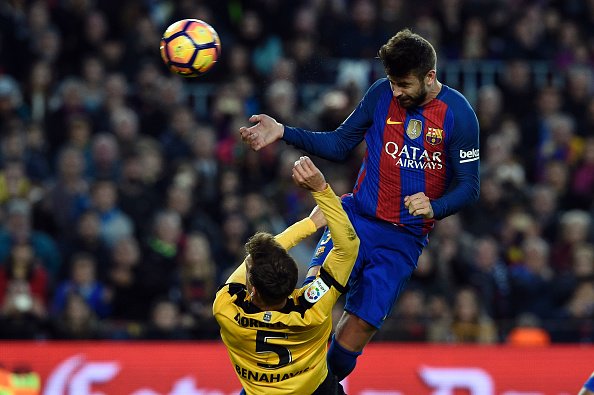 Any sign of optimism that the Blaugrana fans took from the last gasp win over Sevilla prior to the international break were quickly whittled away against the Andalusian side.Feast turned to famine as Blaugranes headed for home with gnawing sense of frustration.
An excellent defensive display from Malaga saw the Blaugrana held to a draw at home, as their chances of closing down on league leaders ruined.
luis Enrique's men remain four points below Arch rival (Real Madrid). The points they lost, Madrid gained. Frustrating.
Two points dropped for Barça on a day when they had hoped to make up ground with Real Madrid playing away to Atlético. Opportunity lost

.

With Saturday's matches concluded, here's the top of the table. Barça 4 points behind; Sevilla nipping at our heels. [Livescore]
Taking 25 points from a possible 33, the Blaugrana went into the clash without their playmaker Lionel Messi, who suffered a stomuch bug, Luis suraez suspended, Iniesa and Samuel umtiti were yet to recover from injury.
Despite this, Luis Enrique was able to name a starting lineup bringing in Arda Turan, Rafinha, and of course Paco Alcacer to take on the Andalusian side.
Juande Ramos's outfit were yet to record an away victory this season but they made life difficult at Camp nou as a formidable Malaga side held Barcelona for a point.
Backed by a booming home end, Blaugrana enjoyed dominance from the opening stages with sloppy passing and a disjointed attack that never gelled the entire duration of the match.
New recruit Paco certainly doesn't have the forward looking positivity that Luis Suraez brings to the Catalan attack. The Spanish striker failed to register his first goal for Barcelona.
Paco Alcácer is in real trouble. His movement was terrible today and he held Barça back. Munir, who left, was already adapted to this team credit

:




Ben Hayward
It almost worked, but using Piqué as emergency centre-forward and lumping crosses into the box isn't innovative tactics from Luis Enrique.credit

:




Ben Hayward
With the likes of Messi, Suraez and Iniesta absent the Blaugrana struggled to find the all important opener as a fraught second half dragged on, let alone break down the resolute defense line of the visitors.
Without Messi, Barça were bereft of ideas in midfield and attack. His importance today was noted almost as much as when he is on the pitch.credit

:
Ben Hayward
Not an ideal game to return from international break, then- particularly one when two key players are missing and . The qualities of a player are always heightened when they are not playing and there can be a temptation to overemphasis that. make no mistake, however Messi was as much of a miss here as he was in the opening hour of the loss against Alaves.

It was a diffcult day for a new look attack to impose itself. No surprise this game represent a match that have seen Blaugrana wait longest to register a shot on target.

Rafinha, Pique, and Neymar all had gilt-edged chances to score but were thwarted by Carlos kameni, it was ultimately a disappointing afternoon for the home fans with plenty for Lucho to take back home to digest along with his backroom staff. matches against the Andalusian side have always been regarded as a diffcult one for Barcelona.
I feel like it's too early to say if the Blaugrana are truly a cut below who they used to be in the past or they are simply their own worst enemies.
With 26 points earned in first 12 match days, 2016/17 is Barcelona's worst start to a La Liga campaign since 2007/08.
On another day, against a less determined defense, Barcelona could have walked away from Saturday's clash with a considerable victory.

But having failed to beat Carlos Kameni, The Blaugrana chances of closing down the gap between league leaders was reduced as Real Madrid secured a 3-0 victory over Athletico Madrid.
Six league games at Camp Nou this season and only three wins. That's unusual and not championship form. Lots to improve for Barcelona.
Barca's next clash come against Real Sociedad with the importance of sealing victory away from home underlined as their title rival's fortunes improve,